Lightline 2019 is coming
More uniques & the biggest variety ever!
Neon yellow fire hose - a real eye-catcher for your outfit. Since the neon-yellow hose isn't used that often in german fire departments, it is pretty hard to get. We collect these treasures separately and then produce unique products in neon yellow once a year for the legendary Lightline special edition!
Learn more
Unique protection for early adopters
Get unique Mitch protection for your new Samsung Galaxy S10, S10+ or Huawei P30. Samsung Galaxy S10 & Huawei P30 fits in Mitch 12, while Mitch 9 provides reliable protection for your Samsung Galaxy S10+. The recycled fire hose not only gives Mitch its unmistakable design but also stability and water repelling properties. Thanks to the convenient quick access tab, you always have your phone at hand. Every time you pull your phone out, the velvety microfiber lining automatically wipes it clean of dirt and fingerprints.
Discover Mitch
Buy now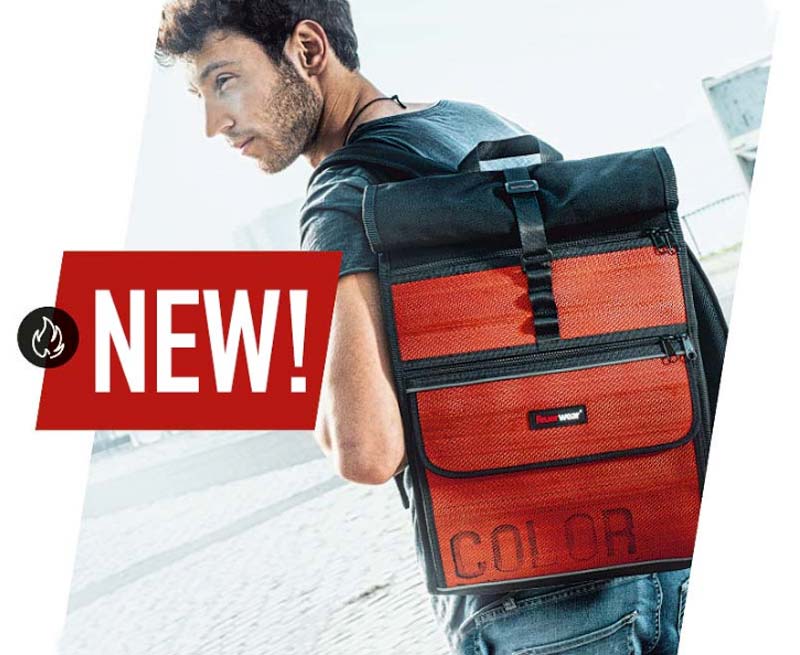 New: Rolltop backpack Eddie
The brand-new rolltop backpack Eddie with its flexible capacity is a game changer for your everyday life. Heading home to repack is a thing of the past. Eddie will accompany you on your day-to-day missions at the uni, the office or wherever you want to go afterwards – no repacking, no overstuffed backpack.
Learn more about Eddie
Shop now
Gym bag Harris
For natural winners
Team player Harris is always ready to go and can keep up in any sport you can name. This gym bag comes with a mesh compartment, key finder, several zippered pockets, handles and removable shoulder strap make Harris your perfect training buddy. The special thing about it: the wet compartment protects your clothing and equipment from all traces of your workout. And Harris doesn't just cut a fine figure at the track or gym – it also makes a great overnight bag.
Learn more about Harris
Buy now
Fly across the city!
Hip bag Otis gives you free rein for your everyday missions.
Phone, keys, wallet – all you need. Click! and go. Otis gives you free rein. The only hip bag made of recycled fire hose is now available in our shop. Hip bag Otis keeps your valuables close at hand, sturdy and water-repellant to keep your concert tickets safe. The first belt pouch made from used fire hose pays off whenever a backpack is too much.
More about Otis
Buy Otis
For firefighters like you!
Attention lifesavers - pager case Roger has arrived!
A new hero joined the Feuerwear-Shop: Pager Case Roger reports for duty in the truest sense of the word. Roger is made of sturdy recycled fire hose and protects your device from drops and scratches. Thanks to its broad belt loop and extra wide velcro fastener you can easily open and close Roger. Get your unique item now to assure uncompromising on-call duty.
Read more
Buy now
Men's wallet Fred
Unique, robust and extremly functional
The unique men's wallet Fred made of robust fire hose is your perfect companion for everyday use.
More about Fred
Buy now
Unique products
We produce one-of-a-kind products from fire hose that has saved lives for many years, while withstanding heat and fire. this has left traces which make every product unique. For this reason we photograph every product individually for our online shop. Find your one-of-a-kind product now!