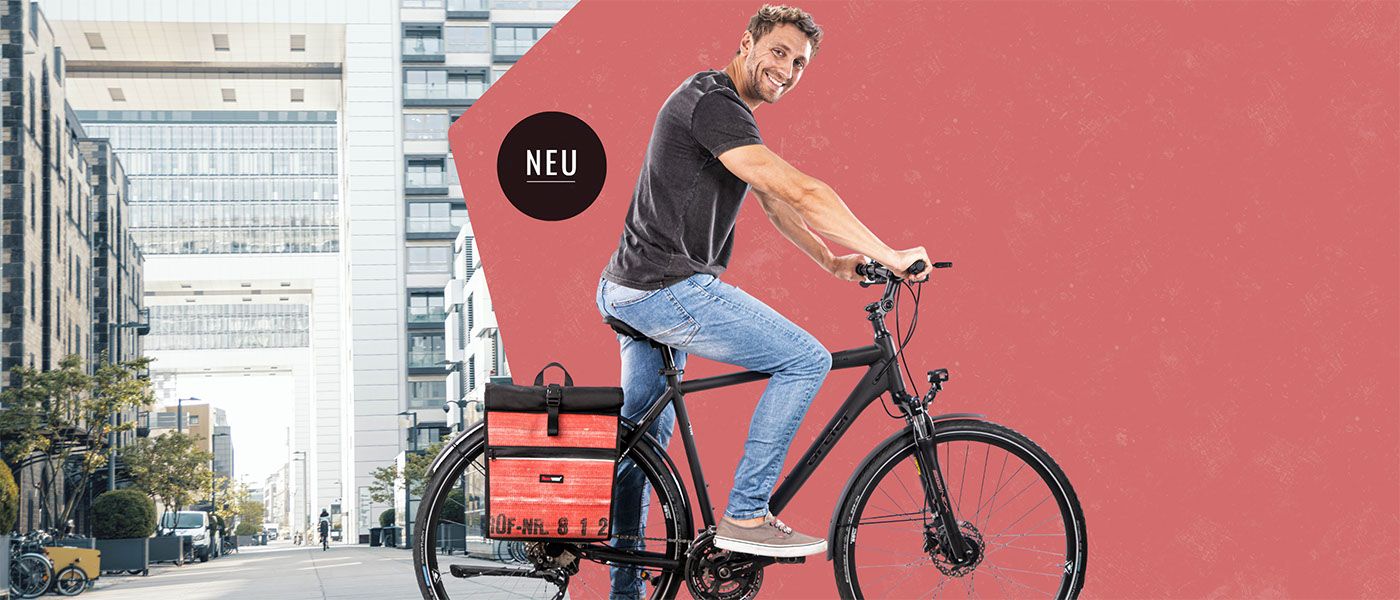 Here comes the first pannier bag from Feuerwear for your bicycle. With a volume of up to 19 liters and equipped with an intuitive KLICKfix system, Sam can carry quite a load.
Buy now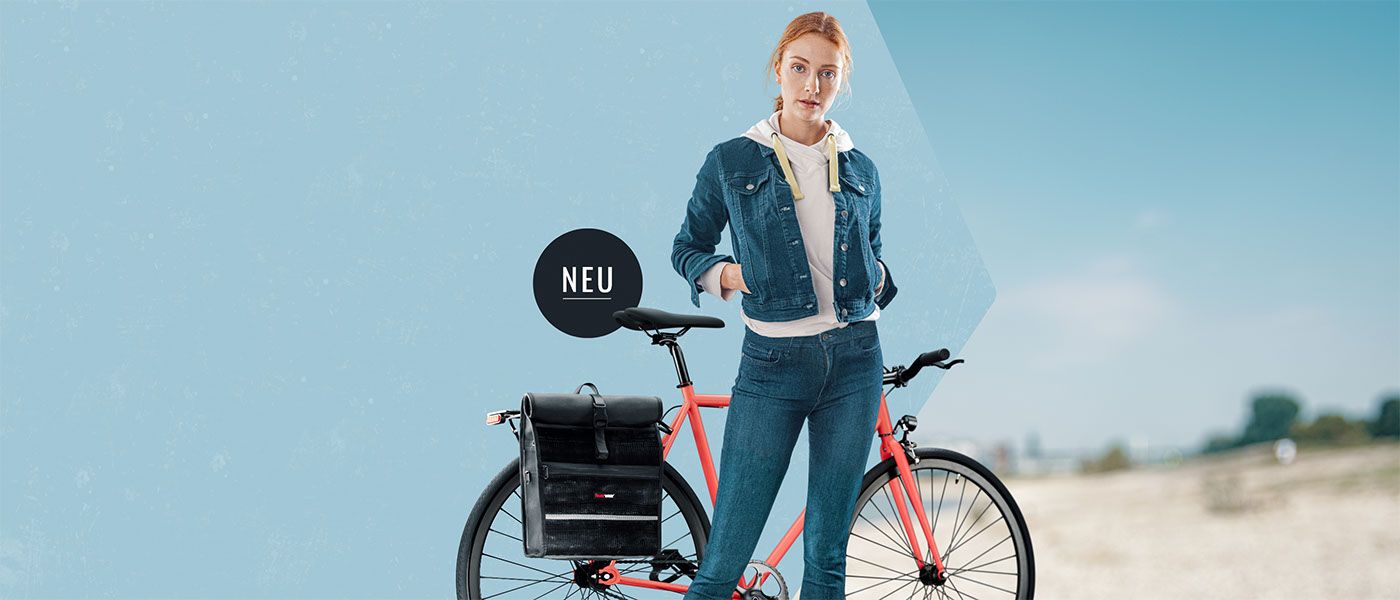 Here comes the first pannier bag from Feuerwear for your bicycle. With a volume of up to 19 liters and equipped with an intuitive KLICKfix system, Sam can carry quite a load.
Buy now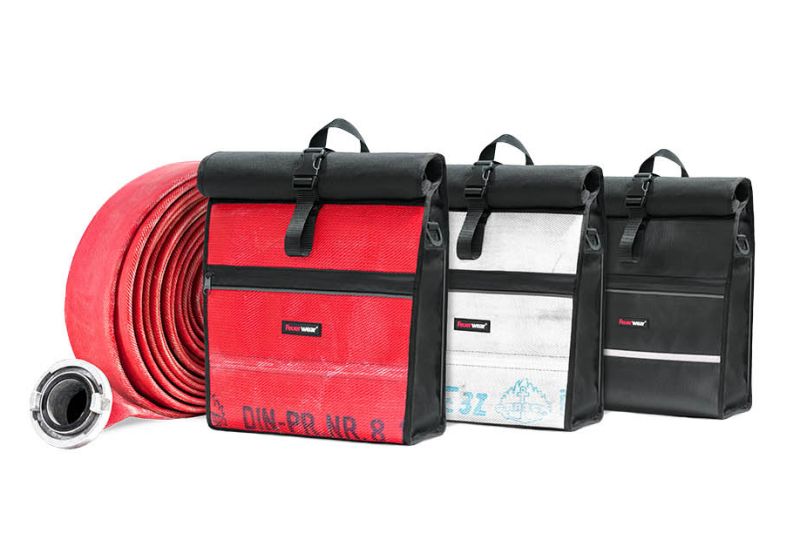 New: Sam!
Pannier bag Sam comes in the fire hose colors red, white and black. Unique markings and traces of use left by actual firefighting missions make Sam, our everyday hero, an unmistakably unique pannier bag!
Find unique product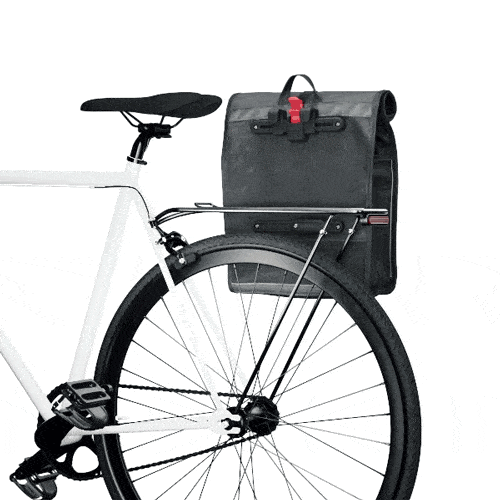 KLICKfix system saves time
Klick, fix, go!
With the KLICKfix mounting system on the back, Sam can easily be secured on almost any bike rack. Before using it for the first time, the lower hook must be adjusted with a screwdriver to fit to your carrier rack. Then the KLICKfix system can be attached in a few seconds, without any tools. All four hooks are perfectly aligned to keep Sam securely in place, even on a bumpy ride.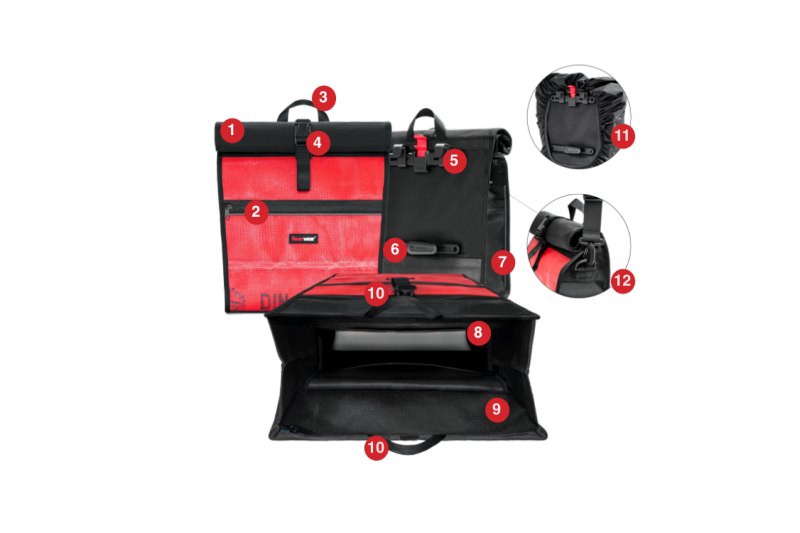 Storage on your bike
Rolltop closure adjusts flexibly to variable contents. Additional open-end zipper when unrolled completely.
Front compartment with splash zipper
Carrying handle
Buckle for adjustable closing
KLICKfix mounting system for your bike rack
Four hooks for a secure hold on any terrain
pocket
Large main compartment
Pocket for laptops up to 13"
Integrated handles for optimal carrying comfort when unrolled completely
Extra dirt & splash cover
Removable shoulder strap
Find unique product
Flexible and intuitive

Sam has convincing flexibility: Thanks to the intuitive KLICKfix mounting system and conveniently stowed shoulder strap, Sam turns from pannier to shoulder bag in a matter of seconds. This saves time when you have to leave your bike outside.
View all bags
Go to Feuerwear design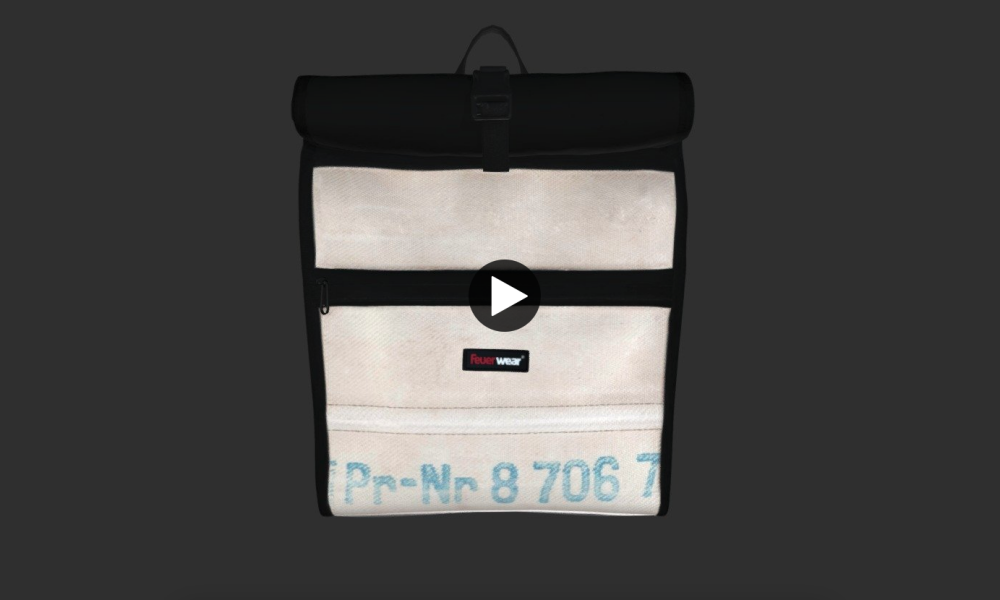 Sam in 3D!
Tap or click to view Sam from all sides. Zoom in with two fingers or your mouse wheel.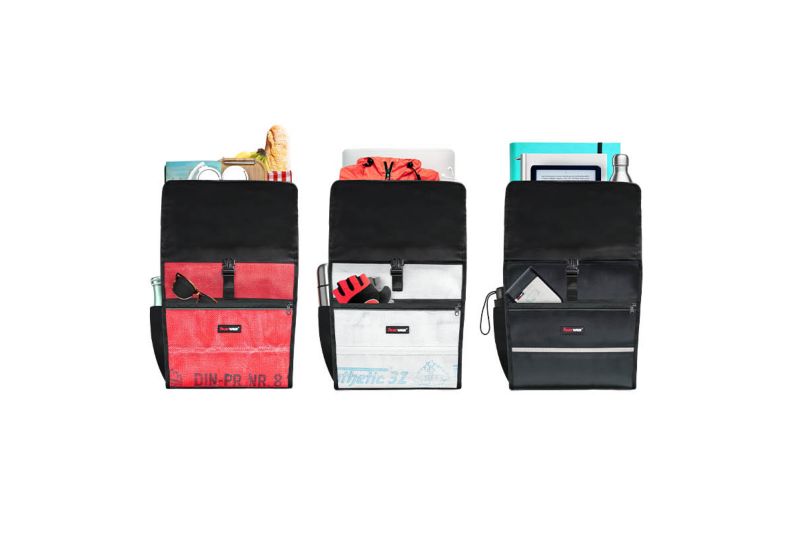 Everything in its place!
If you're on a shopping spree downtown with your bike, you'll love Sam's additional storage space and optional use as a shoulder bag when strolling through town. In the office today and back in your home office tomorrow? Pack up your documents and laptop from the office in your pannier bag and head out on your bike, pedelec or e-bike.
Buy Sam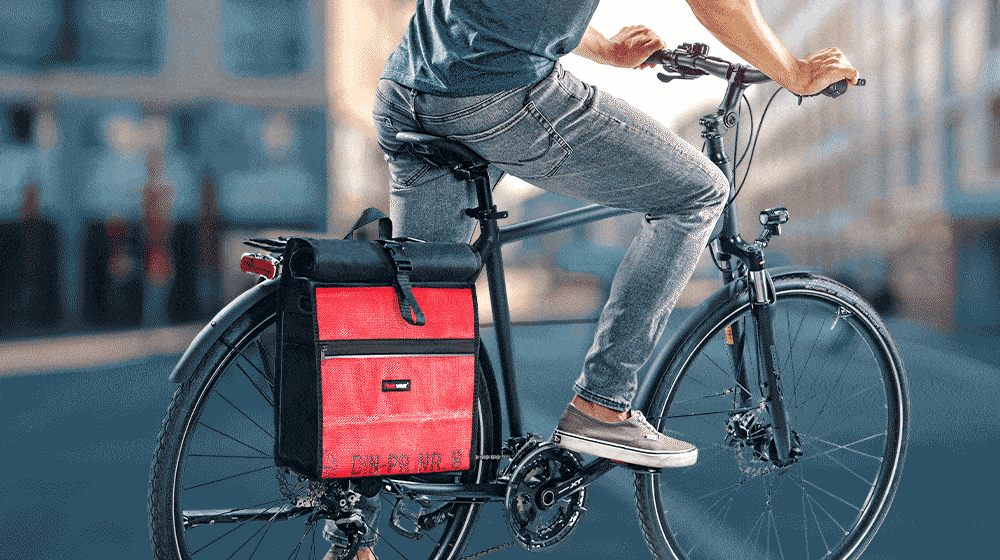 Safe in the dark
Reflective strips sewn into the bag reflect the light of other road users and make it easier for them to see you, particularly when it's not light out. This makes it safer for you on the road, especially in winter.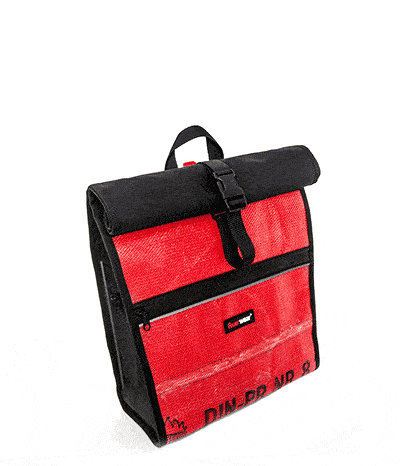 Storage (sp)ace for your bike!
With its width of approx. 35 cm, Sam can rest comfortably on almost any bike, pedelec or e-bike rack. Sam's rolltop lets you increase its volume from 13 to 19 liters. The open-end zipper allows you to open the bag over the entire width to comfortably stow large items.
Buy now
Outer dimensions (HxWxD): 39-55 x 31-35 x 13 cm
Inner dimensions (HxWxD): 38-52 x 29-33 x 12 cm

Weight: 1.3 kg
For bike racks with 8-16 mm bar diameter
Max. carrying capacity: 8 kg
Carrying strap length: 150 cm
Volume: 13-19 l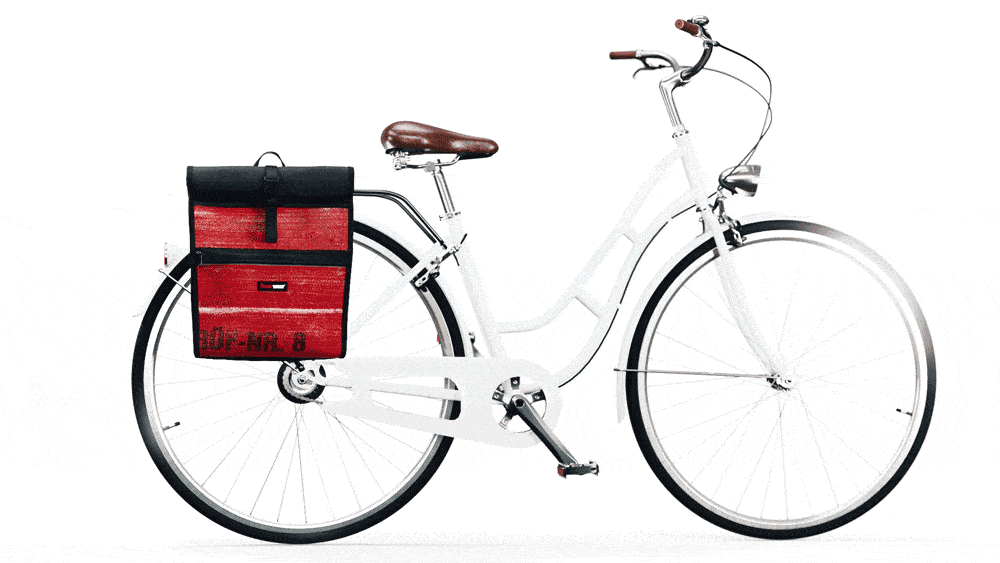 Fits any bike
Thanks to the flexible KLICKfix system, pannier bag Sam can be mounted on any bike rack with a bar diameter of up to 16 mm, in no time.
Buy Sam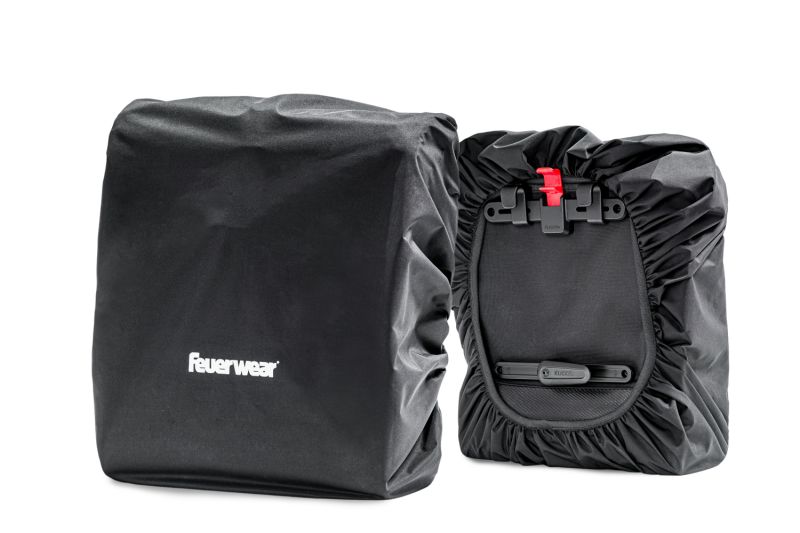 Dirt & splash cover
The fire hose we use for our products is naturally water-repellent. Should your Sam get dirty, it can easily be wiped off with a damp cloth. But if you can't avoid riding through the mud and want to keep Sam clean, we've tucked a little something in one of Sam's side pockets: a dirt & splash cover from We aRe SpinDye®. The Feuerwear logo on the front is made of reflective material.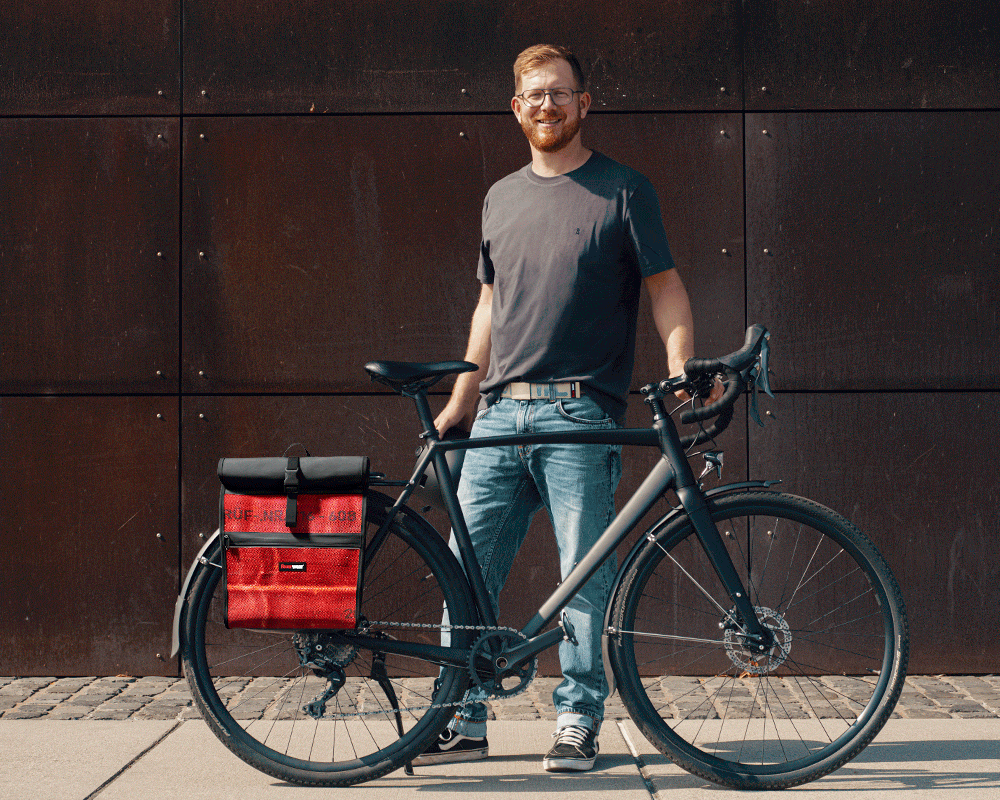 Choose your one-of-a-kind Sam
Fire hose with original traces of use. Now available as a bike pannier bag.