The spacious and flexible messenger bag made out of recycled fire hose is the perfect companion for your everyday missions. With a clever strap system for bike rides – also adjustable for left-handers.
BUY NOW


Variable top
Simply adjust the size to the contents of the bag.
Thanks to its variable top, you can easily vary the size of your Gordon messenger bag, depending on how much you put in it. This promotes Gordon to a real bag space wonder.
Compartments for accessories
With the clever interior design you keep all your things neat and organized.
Belongings worth protecting, such as laptops or tablets, find a safe place in the padded inner compartment. With the help of a number of small pouches and slots, as well as a keyfinder, chaos will never be a problem.
Details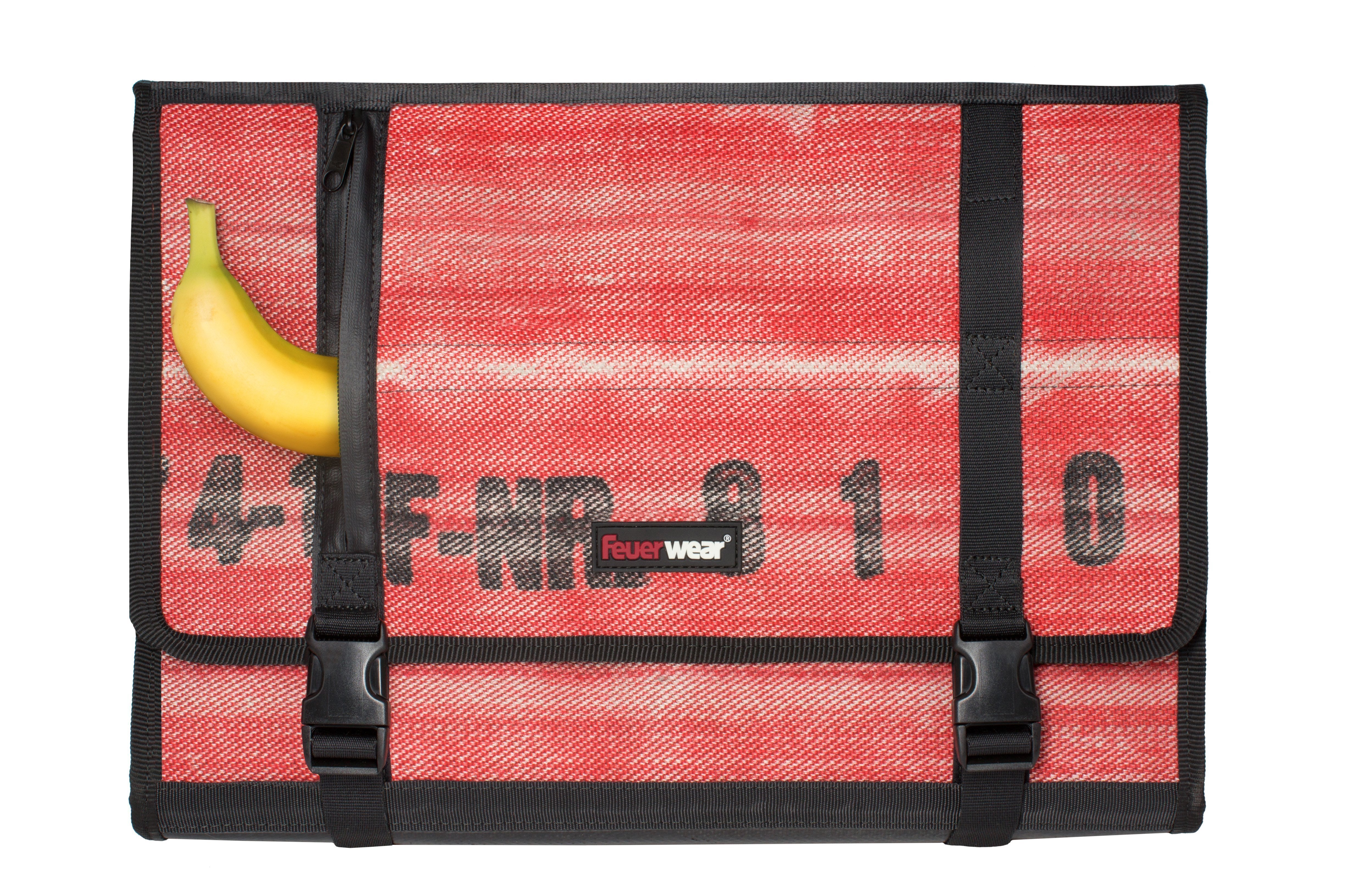 Outside
quickly adjustable shoulder strap
shoulder pad
padded back
zippered pocket on the outside
optional velcro silencer
diagonal strap keeps the bag in the right position on bike rides, with Velcro and quick-lock closings
Inside
padded inner compartment for laptops, tablets etc. with dimensions up to 15" (depending on model)
large zippered compartment
pockets for phone, wallet etc.
two pen holder
keyfinder
The strap system
Quick and flexible - for both right- and left-handers
Gordon's shoulder strap can be quickly adjusted to your height in two easy steps. Thanks to the additional diagonal strap, this allrounder always sits securely during bike rides. This makes the messenger bag incredibly versatile for everyday use, on the way to work, uni or school. You can simply turn the strap around, which makes Gordon the ideal bag for both left- or right-handers.
Additional strap for cyclists
Shop now
Quickly adjustable shoulder strap
Strap system for left-handers
Shoulder pad
Highest level of carrying comfort
Removable shoulder pad Tom, made of the same piece of fire hose as your messenger bag Gordon, ensures the best carrying comfort.
Learn more
Gordon 15L
Outside dimensions (HxWxD): 34.0 cm x 37.0 cm x 15.0 cm
Inside dimensions (HxWxD): 33.0 cm x 35.5 cm x 13.0 cm
Laptop compartment (HxW): 24.5 cm x 34.0 cm
Weight: 1.350 g
Strap length: 133 cm
Capacity: 13-15 l
Gordon 18L
Outside dimensions (HxWxD): 34.0 cm x 44.0 cm x 15.0 cm
Inside dimensions (HxWxD): 33.0 cm x 42.5 cm x 13.0 cm
Laptop compartment (HxW): 26.0 cm x 40.0 cm
Weight: 1.590 g
Strap length: 133 cm
Capacity: 17-18 l
Keep everthing together!
variable bags cover
large zippered pocket with...
... a pocket for your smartphone
... pen holders
... a keyfinder
... a pocket for your wallet
large main compartment
inner compartment for laptops with dimensions up to 13"
optional velcro silencer and quick-lock closings
Individual lettering and traces of use
Your messenger bag Gordon is as unique as you are.
The unique markings from numerous fire stations and traces of use on firefighting missions make every messenger bag Gordon a one-of-a-kind piece.
Learn more about the material
More about product care
Find your unique product in our online shop