Spacious shoulder bag Walter made of recycled fire hose. Durable and practical - perfect for your everyday active duty.
BUY NOW



Your day is in the bag!
Shoulder bag Walter made from fire hose
All you need when on the go
Walter offers endless space: Smartphone, keys, wallet, pens, notepad, 13" laptop, A4 file folder and maybe an extra sweater? No problem, you can bring it all. Recycled fire hose and high-quality handcrafting protect your stuff from your everyday challenges.
Shop now
Walter in 3D!
Tap or click to view Fred from all angles.
Zoom with two fingers or your mouse wheel.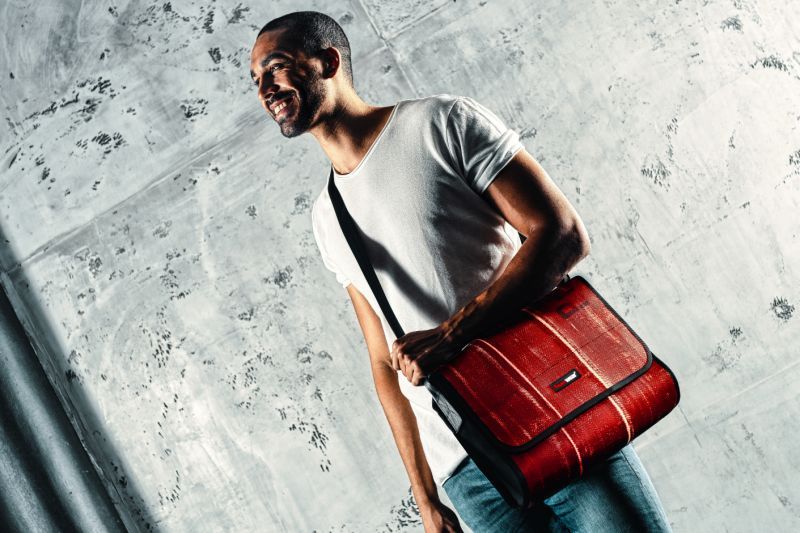 Unique eye-catcher
Every Walter is one-of-a-kind. Choose red hose to make your outfit really pop. Or Walter in white, which matches everything fantastically. And in black (for these we turn white hose inside out) Walter always makes a stylish impression. Check these unique products out!
Shop now
The bag with personality
Each Walter bag proudly wears traces of real firefighting missions:
Markings, traces of use and unique details
make Walter your one-of-a-kind bag.
Outside dimensions (HxWxD): 32.0 cm x 34.0 cm x 13.0 cm
Inside dimensions (HxWxD): 30.0 cm x 32.0 cm x 12.0 cm
Weight: 1.200 g
Strap length: 152.0 cm
Capacity: 13-15 l
Select your own unique bag!
Fire hose with original traces of use. Every Walter is unique.
Reviews
Walter

5

Great looking bag and the functionallity of the inside is perfect for my needs.
Because I had it shipped to the Netherlands I couldn't follow it once it crossed the border.
DHL Germany and the Netherlands have different track and trace options, that's something te keep in mind.
Furhter on the info from Feuerwehr.de was great.